CASA of Kosciusko County Appoints new executive director
Wednesday, June 24, 2020
Following an extensive multi-state executive candidate search, the Board of Directors of CASA of Kosciusko County is pleased to announce the appointment of the county's new Executive Director of CASA.  Erin Rowland Jones, Esq., a native of Warsaw, possesses an impressive and diverse background of experiences that will build and strengthen CASA's mission of advocating for the best interest of abused and neglected children of Kosciusko County.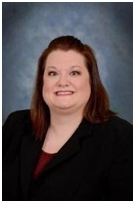 Upon graduation from Warsaw Community High School, Rowland received a BA in Psychology from Indiana University Bloomington and graduated Magna Cum Laude with her Juris Doctor, with a concentration in Family Law, from Michigan State University College of Law.
"As a local attorney," reflects Erin, "I have been privileged to witness the effect CASA of Kosciusko County has on the lives of vulnerable children in Kosciusko County and am honored to follow in the footsteps of Mackenzie.  I am looking forward to bringing my enthusiasm, fresh perspective, and experience to continue the organization's legacy of positively impacting the lives of abused and neglected children in our community."
Ms. Rowland has been a practicing attorney in the community for the past 14 years. She brings extensive experience in family law, currently serving as a Guardian Ad litem, Mediator, and Parenting Coordinator in addition to her private law practice.  She is the secretary of the Kosciusko County Bar Association, former board president of United Way Of Kosciusko County, and is the immediate past board chair of the Kosciusko County Convention and Visitors Bureau. 
Jason Gergely, president of CASA of Kosciusko County Board of Directors states, "The Board of Directors is thrilled to have found someone of Erin's caliber to fill the large shoes of outgoing Executive Director, Mackenzie Cloutier.  Erin's demonstrated investment in our community and the many relationships she has built through her various board appointments and current legal practice position her nicely for a smooth transition into the Executive Director position.  On behalf of the Board of Directors, I welcome Erin as we look forward to drawing upon her expertise and her passion to be a voice for our most vulnerable children."