April is Child Abuse Prevention Month
Tuesday, April 5, 2022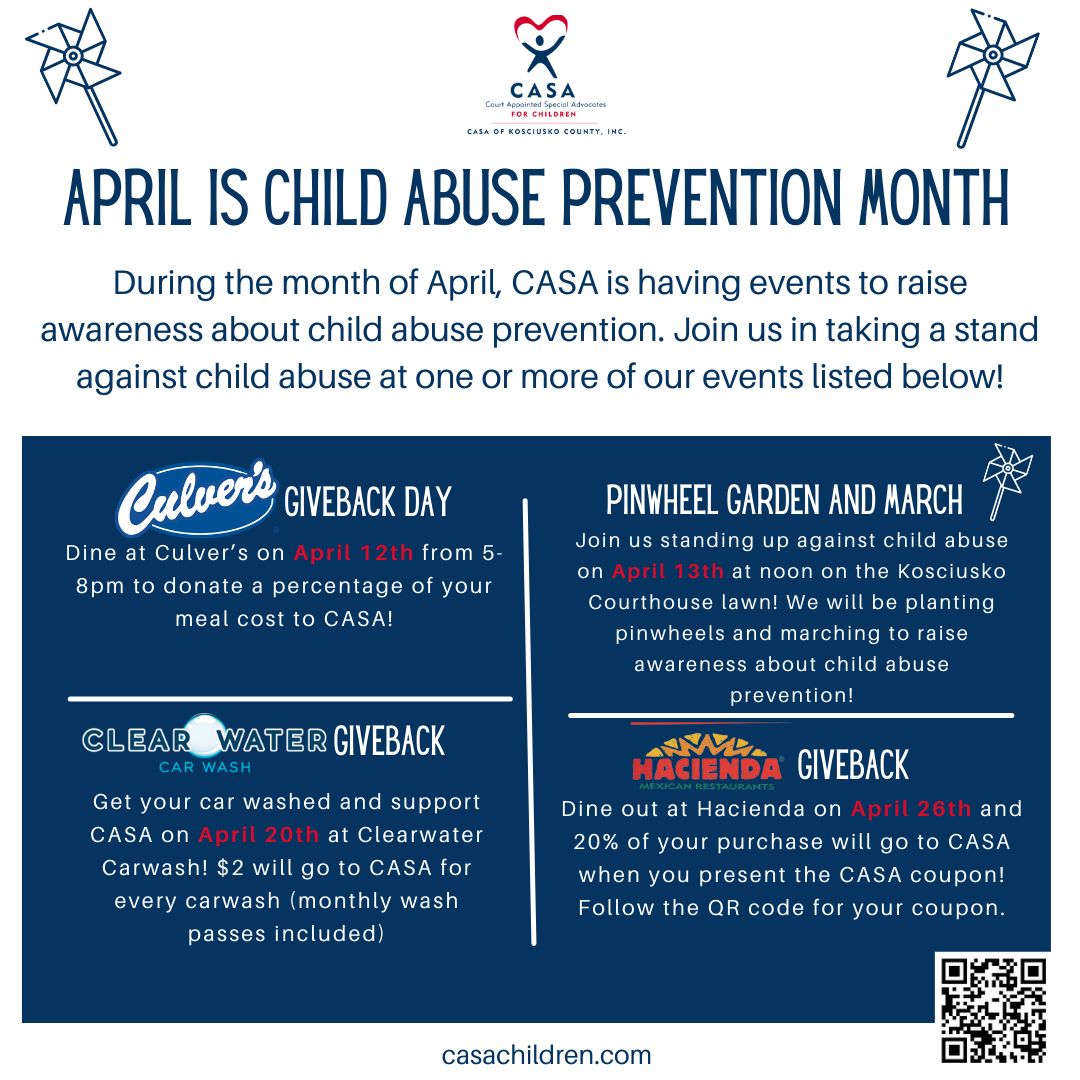 April is National Child Abuse Prevention Month and CASA of Kosciusko County would like to invite the community to join them in taking a stand against child abuse. Join CASA and other community members at noon, on April 13, 2022, on the south lawn of the Kosciusko County Courthouse for a brief march around the Courthouse square for child abuse prevention culminating in a pinwheel planting ceremony to bring awareness to this important cause. In 2008, Prevent Child Abuse America introduced the blue pinwheel as the national symbol for child abuse prevention. These pinwheels represent a commitment to preventing child abuse and stand as a reminder of the happy childhoods and bright futures that all children deserve.
"Abuse and neglect continue to be major issues in our community" says CASA of Kosciusko County Director, Erin Rowland Jones. In 2021, CASA of Kosciusko County's 68 active volunteers provided advocacy to 164 abused and neglected children in Kosciusko county.
During April CASA would like to focus on ways the community can support children who have experienced abuse or neglect and work to prevent future experiences of abuse.
During the month of April, CASA of Kosciusko County will be out in the community at various events to inform the community about their mission along with what steps you can take to help prevent child abuse. On April 12th, CASA will be hosting a dine-to-donate at Culver's in Warsaw from 5-8pm where up to 20% of sales during that time will be donated to CASA. On April 20th, CASA will be at Clearwater Car Wash where $2 from every car wash will be donated to CASA. Lastly, CASA will be at Hacienda on April 26th where 20% of all sales will be donated to CASA. For a percentage of your Hacienda meal cost to be donated, you must present the CASA token. For more information regarding CASA's April Events or to get the CASA token, please visit casachildren.com/events/april.
CASA is excited to see the community support through the many pinwheels and signs around town. We thank the local businesses who have shown commitment to child abuse prevention through their signs and window art.