CASA Plants Pinwheels In Recognition Of Child Abuse Prevention Month
Tuesday, April 26, 2022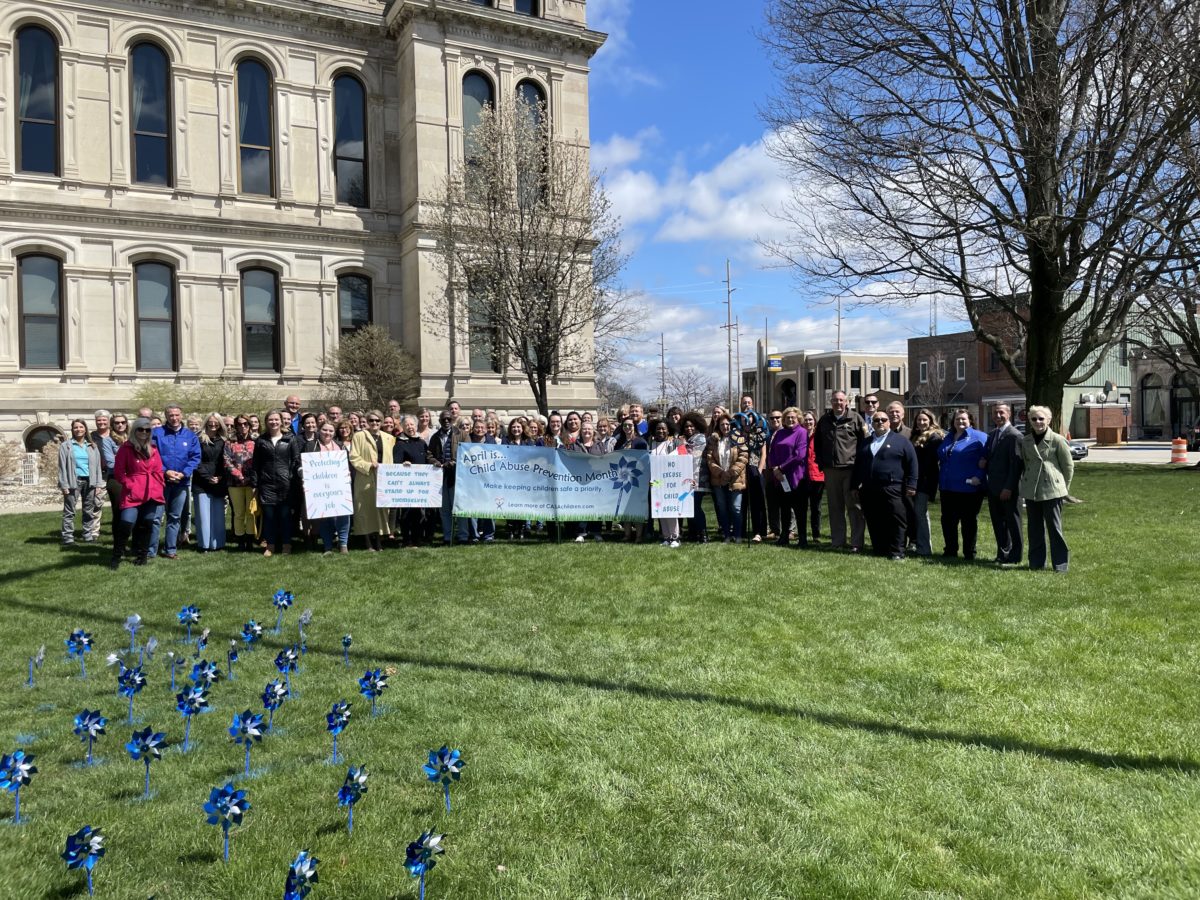 By: Liz Shepherd, InkFreeNews
Court Appointed Special Advocates (CASA) of Kosciusko County held its annual pinwheel planting ceremony in honor of National Child Abuse Prevention Month at the courthouse in Warsaw on Thursday, April 21.
About 100 people attended the event, with the group marching once around the courthouse square and planting pinwheels on the south side of the building. Among those in attendance were CASA representatives, Department of Children's Services workers, local attorneys, police officers and justice building staff.
CASA is a non-profit organization which advocates for the interests of abused and neglected children who are entangled in the county's court system by training and recruiting volunteers to work as CASA.
In 2021, Kosciusko County Department of Child Services completed 1,109 assessments for child abuse and neglect. CASA of Kosciusko County served over 164 children in 2021.
This month, several town councils in Kosciusko County also read proclamations during their recent meetings, recognizing April as Child Abuse Prevention Month.
At the event, one large pinwheel was planted alongside dozens of smaller ones in honor of former Kosciusko County Superior Court One Judge David Cates, who passed away in December 2020.
"He was a fierce advocate for children and loved what he did," said CASA of Kosciusko County Executive Director Erin Rowland Jones. "We miss him and we honor him by planting that large pinwheel every year."
Prior to pinwheel planting, Kosciusko County DCS Local Office Director Sarah Cole and Kosciusko Superior Court One Judge Karin McGrath spoke.
"In my short time in Kosciusko County, I have been very impressed with the local office staff and community response to ensuring that children's needs are being met," said Cole.
Anyone who suspects or has concerns about child abuse or neglect are asked to call DCS's 24-hour, 365-day hotline at 1 (800) 800-5556.
"These pinwheels remind us that childhood should be carefree, playing with pinwheels in the sun, not living a nightmare," said Judge McGrath. "The nightmare of child abuse manipulates and twists a child's natural sense of trust and love. They learn to ignore their feelings and simply shut down. Children in an abusive environment are left trying to find ways to cope, to adapt. We can't just breathe a sigh of relief when the child turns 18. (Abuse) follows them into adulthood. It affects every facet of their life and their own ability to love and protect others."
Judge McGrath said the Centers for Disease Control and Prevention estimates that one in seven children are victims of abuse or neglect.
"We're quite certain that number is low because of unreported cases," said Judge McGrath. "1,750 children died from abuse and neglect in the United States in 2020. Let us be the ones who do not accept those numbers. To be concerned is to be human, but to act is to care."